Effective nutrition services
Article by Dr Thant Zin and Elin Nilsso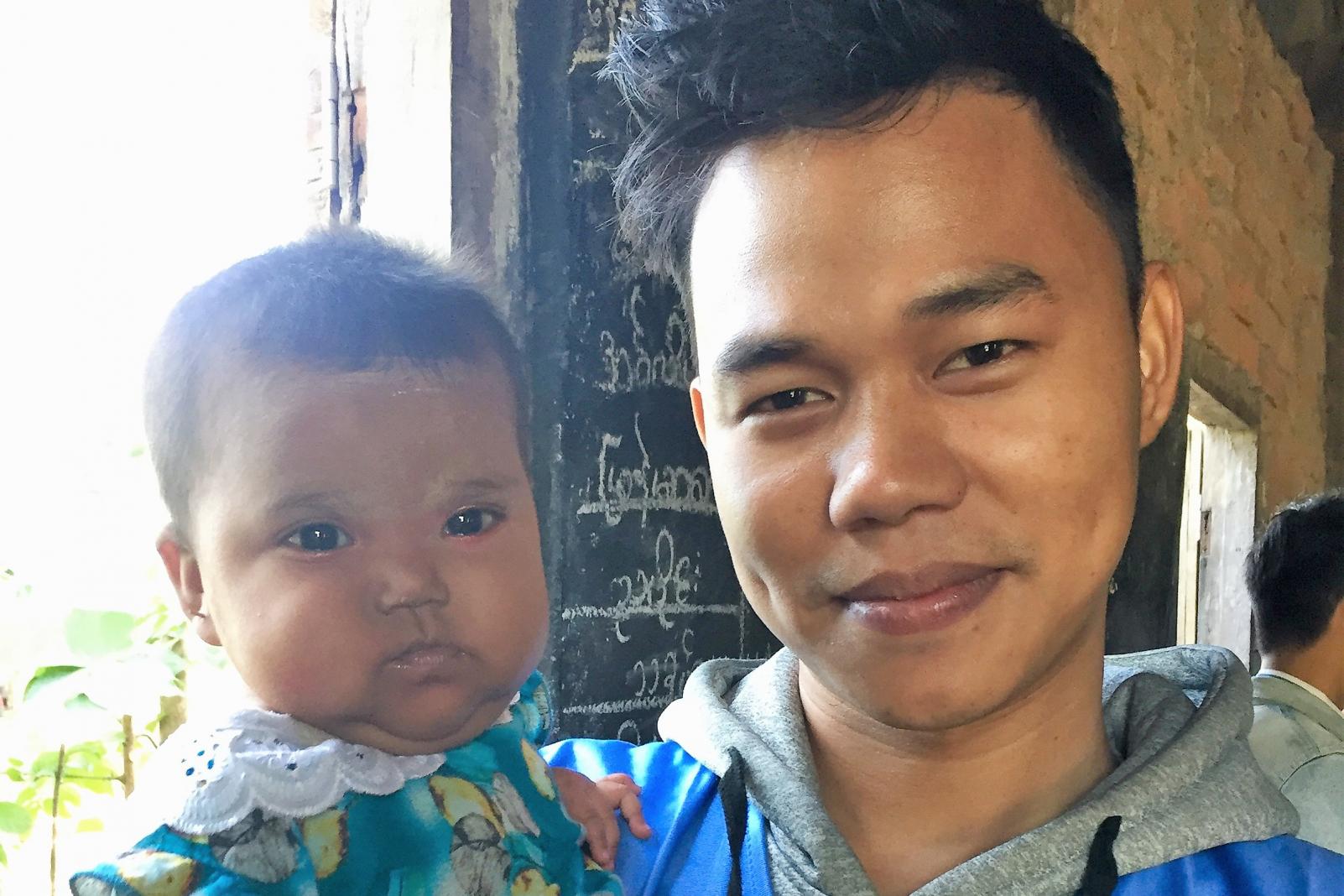 UNICEF Myanmar/2020/Thant Zin (
12 February 2020)
PAUKTAW TOWNSHIP, RAKHINE STATE - Eight-month-old De Kaw Saw Be Be lives with her father and grandmother in Taung Ywar village in Pauktaw Township, 105 water miles from Sittwe, the capital of Rakhine State. Her father is a labourer earning low wages and her parents divorced one month after she was born.
Every Thursday the Myanmar Health Assistant Association (MHAA) delivers health and nutrition services at Taung Ywar village. With support from UNICEF and contributions from USAID Food For Peace (FFP) and the Government of Japan, MHAA provides micronutrient supplementation with sprinkles to children aged six to 59 months and micronutrient tablets to pregnant and breastfeeding women, to prevent malnutrition. Children under five years of age are measured using mid upper arm circumference and weight for height to diagnose severe acute malnutrition. Children identified with Severe Acute Malnutrtion are treated using ready to use therapeutic food and managed through close monitoring and counselling for appropriate care and feeding practices. De Kaw Saw Be Be and her father are among the 25,191 children and 6,422 caregivers who were supported by UNICEF support through MHAA in 2019.

In October 2019, De Kaw Saw Be Be arrived at the health centre having been screened and identified as suffering from SAM. Although her appetite test was good and she had no medical complications, the little baby's mid-upper arm circumference was only 10.6 centimetres and she weighed just 4.2 kilogrammes at eight months of age.

De Kaw Saw Be Be was admitted to the outpatient therapeutic programme and treated for malnutrition while her father and grandmother started attending weekly counselling on infant and young child feeding. Her grandmother paid careful attention to regular three times a day feeding with Ready-to-Use Therapeutic Food (RUTF).

Effective nutrition services including weekly follow up visits to check on the little girl's nutritional status showed positive results.

After 10 weeks on this feeding treatment programme, De Kaw Saw Be Be had put on weight and her nutrition status was recognised as good, free from severe acute malnutrition. Her mid-upper arm circumference had increased to 12.8 centimetres and she now weighed 6.4 kilogrammes. She is continuing for another three months on the supplementary feeding programme, to get completely cured from the severe acute malnutrition.

Thanks to valuable support from USAID-FFP and Japan, things are looking up for young De Kaw Saw Be Be, living happily with her father and grandmother.
—Ref: UNICEF Myanmar